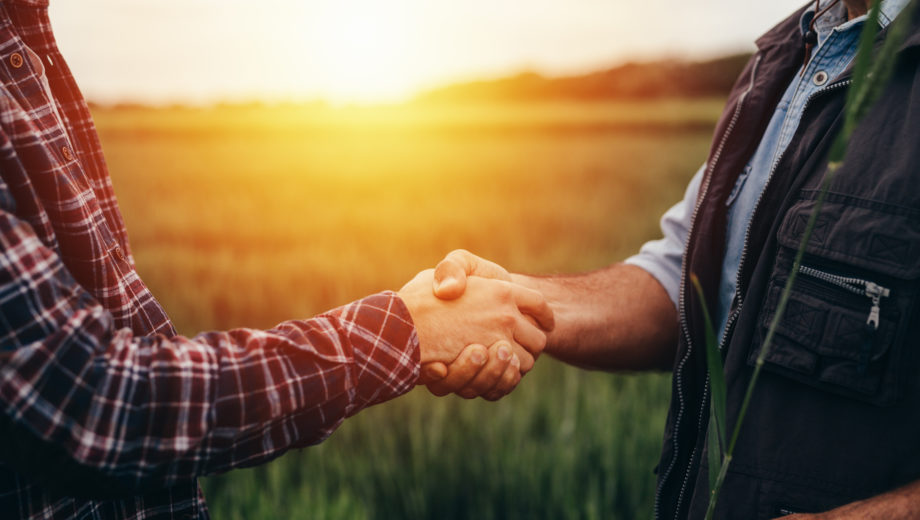 Agricultural retailers are key in scaling regenerative practice adoption
The agricultural retail sector is an important part of the food and agriculture supply chain because of the inputs and services ag retailers provide and their role as trusted advisors to farmers. The Midwest Row Crop Collaborative members realize that ag retailers are needed to help scale the adoption of on-farm regenerative practices that improve soil health and water quality.  

Seeking to better understand ag retailers' relationships with conservation and barriers to sustainability efforts in the food and agriculture supply chain, the Midwest Row Crop Collaborative staff interviewed ag retailers and conducted research on the role they play in informing and promoting new agronomic practices on the farms they service.  
The findings from the interviews and research have been used to create recommendations on ways ag retailers can support supply chain sustainability efforts.
Key themes emerged from the interviews:  
There is no consistent approach to conservation in the supply chain.
Ag retailers have received limited engagement regarding how sustainability fits in the food and agriculture supply chain. As a result of this lack of coordination, the sustainability objectives of companies are not well known or integrated into retailers' individual conservation structures or plans. 
Farmers have a strong influence.
Six of ten interviewees said farmers are the primary motivator for co-ops or companies to incorporate more conservation into their service model.  
Farmers also have an outsized role on their peers. When producers are deciding whether to adopt a new practice, "a lot of it is what their neighbors are doing," an interviewee shared. 
A desire to keep customers helps drive conservation.
Conservation is part of numerous interviewees' work because they want to support their farmer base, and a growing number of farmers are interested in sustainable practices. One retailer interviewee said, "We're just trying to support our more progressive growers that are going that direction. We certainly don't want to lose those customers."  
Technology and reporting around sustainability is a barrier. 
Challenges around how to navigate different sustainability data and reporting platforms is a barrier to many of the ag retailers interviewed. The messiness of the software options, inconsistencies across reporting needs, and time intensiveness of organizing farm data inputs into multiple channels are deterrents for ag retailers when determining the value of participating in these sustainability programs. 
There's a need and demand for more training on regenerative practices. 
Service providers, such as Certified Crop Advisors (CCAs), agronomists, and others, rely on education opportunities to stay updated on science and agronomics and provide the best service to their farmer customers. MRCC member The Nature Conservancy partnered with the American Society of Agronomy to survey CCAs to learn more about the role they play and how they can play a larger part in expanding on-farm conservation.  When CCAs were asked which topics they would like more education on, half selected cover crops, 46% enhanced efficiency fertilizers, 36% field-level profit mapping, and 35% complex crop rotations — which are all key components of regenerative agriculture.  
With Purdue University, TNC has been working to help ag retailers identify the risk and opportunity in making conservation services a bigger part of their business model. Purdue has developed a tool that helps businesses identify how their profits and losses will evolve as they provide more conservation services to their customers, helping them make more informed decisions.  
TNC and its partners are developing programs to mitigate some of the risk that an "early adopter" retailer may face. Approaches being tested include equipment cost share, recognition, and marketing through programs like 4R Certification and customized yield guarantees.   
Greater connections needed to grow regenerative agriculture  
Potential exists for better connection between ag retailers' businesses and supply chain sustainability initiatives. The Midwest Row Crop Collaborative identified several ways supply chain companies can bring ag retailers into their work.  
Connect farmers enrolled in projects to local ag retailers so they can share information on regenerative agriculture with trusted advisors. Advisors can then share that information with their networks and feel more empowered to help farmers navigate conservation practices. 

 

Invite local ag retailers to their producer site visits to introduce them to practices in the supply-shed and create an opportunity for direct communication between ag retailers and companies.

 

Develop training on supply chain programs and sustainability commitments that provides continuing education credits for service providers including CCAs.

 
D

esign programs

in collaboration with ag retailers and ensure fair compensation for ag retailers and farmers in these programs to help build trust between supply chain companies, retailers, and farmers.

 
Emily Kraeske is a project coordinator for Environmental Initiative, administer of the Midwest Row Crop Collaborative. Leif Fixen is the North America soil and nutrient strategy manager for The Nature Conservancy. 
Back to News & Press