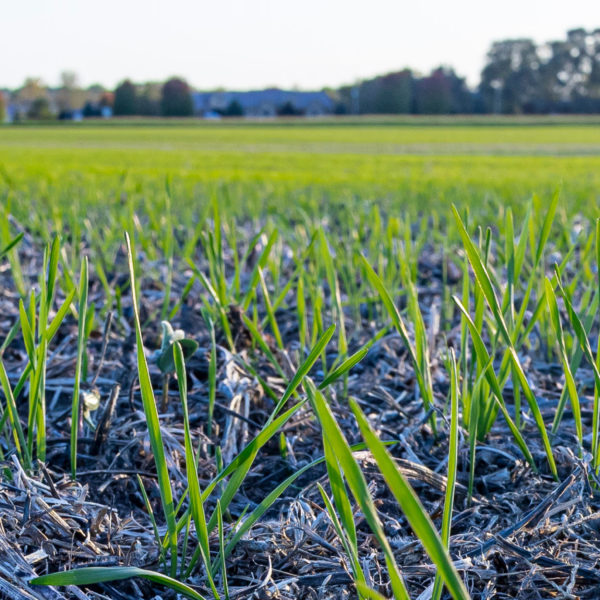 MRCC's Policy Priorities
Midwest Row Crop Collaborative developed a report, Working Lands Lead the Way: Policy Priorities for Regenerative Agriculture (PDF), highlighting important opportunities for systems change that maintains economic and environmental viability for all in the value chain.
Members used insights gained from operating on-the-ground supply chain projects in the Midwest and identified avenues for greater impact by more effectively leveraging public and private resources.
Highlights from the report include opportunities to:
Increased investment in, and delivery of, conservation programs
Prioritize staffing and funding of social infrastructure needed to deploy technical assistance
Improvement of robust measurement, monitoring, reporting and verification tools
Explore innovation that incorporates environmental risk data into crop insurance programs
Additional policy memos highlight recommendations for enhanced public-private partnerships and the business case for regenerative agriculture.
Good public policy is foundational to a resilient, healthy, and vibrant agricultural system.
Policy Opportunities
The Midwest Row Crop Collaborative has identified the following priorities its members would like policy makers at both the federal and state levels to consider when making decisions that affect farmers' ability to productively engage in agronomic and climate-smart practices.
Accelerate in-field and edge-of-field climate-smart practices that improve water quality and soil health, including locally-driven adoption of existing and innovative practices.
Strengthen soil health and water quality research and data collection to improve the adoption of regenerative practices, impact of on-farm climate-smart practices, and measurement of outcomes. Incorporate the latest science and conservation technologies into program implementation.
Improve opportunities for public-private partnerships to drive implementation of climate-smart practices. Public-private partnerships should increase availability of incentives to farmers to overcome cost, risk, or learning-curve barriers to adoption of conservation measures.
Our Policy Principles
Support healthy ecosystems and farm resilience through place-based practices.
Farms are complicated ecosystems of soil, plants, water, and livestock. Managing for the health and productivity of soils using location specific practices is integral to improved water quality, reduced greenhouse gas emissions, and increased farm resilience. MRCC members support policy that incentivizes and removes barriers to the widespread adoption of farming practices that build soil health in row crop systems, including incentive structures beyond government cost-share for climate-smart practices. Farm management that enhances and supports biodiversity should be rewarded, meaning that public incentives are designed with flexibility for farmers to choose the practices that work best for their operations and local ecosystem.
Agriculture is employed as a solution for climate change.
Climate change is a significant and growing threat to the economic and environmental health of agricultural systems. MRCC members support policy that helps farmers achieve resilience through climate-smart practice adoption, including market-based approaches such as value chain partnerships and mechanisms that encourage carbon sequestration and/or greenhouse gas mitigation through agricultural practices.
Systems change requires collaborative approaches.
Public and private resources are best suited to distinct functions in developing and scaling solutions, and sector-wide shifts rely on the strategic use of both. MRCC members support policy that scales proven programs at the landscape level and targets funding to aspects of the agricultural system which are complementary to corporate supply chain projects, including basic and applied research and the conservation of acres providing habitat and ecosystem services.
Equity and economic viability for all in the value chain, especially farm families and historically underserved farmers.
The future of our agricultural system is bound to the well-being of the communities who make its function possible, and policy should reflect that reality. MRCC members support policy that encourages a beneficial economic system for farmers and rural communities: building long-term economic stability, encouraging a wide diversity of crops and farming operations, enhancing the quality of life for farm families and rural communities, and creating opportunity for historically underserved farmers, agricultural workers, and community members.
Promoting regenerative outcomes.
Regeneration is the outcome of a holistic approach, rather than individual practices. MRCC members support policy that promotes the aforementioned principles and pushes beyond practice adoption to verifiable regenerative outcomes on the landscape.
Our policy activities include: