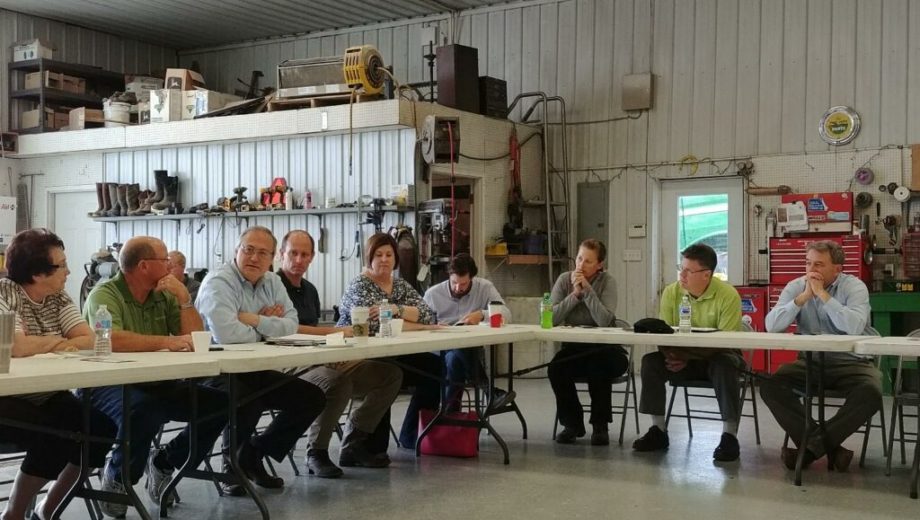 Iowa policymakers visit farm, engage with Midwest Row Crop Collaborative leaders
The Midwest Row Crop Collaborative is working with lawmakers in Iowa, Illinois, and Nebraska to highlight how public policies and programs can support sustainable agriculture and scale the adoption of conservation practices. As part of this outreach, Collaborative members accompanied Iowa Congressman David Young and others on a tour of the Gaesser family's farm in Corning, Iowa.
The Collaborative's members discussed its work with the Soil Health Partnership and farmers in the Upper Mississippi River Basin to improve water quality and reduce nutrient loss into waterways. The members also discussed how Congress has a central role to play supporting farmer-led conservation work in Iowa, Illinois, and Nebraska.
The Collaborative has engaged with lawmakers at the state and federal levels to highlight how they can support farmers' efforts to improve water quality and soil health.
The Collaborative urged leaders on the U.S. Senate Budget Committee on the Budget, U.S. House Committee on the Budget, U.S. Senate Committee on Appropriations, and U.S. House Committee on Appropriations in a June 2017 letter to support robust funding for the Regional Conservation Partnership Program (RCPP) in the FY2018 budget. The Collaborative also encouraged Iowa leaders in April 2017 to continue to lead national efforts to address water quality and conservation within agricultural practices and landscapes.
Back to News & Press