Explore MRCC's 2022 activities and impact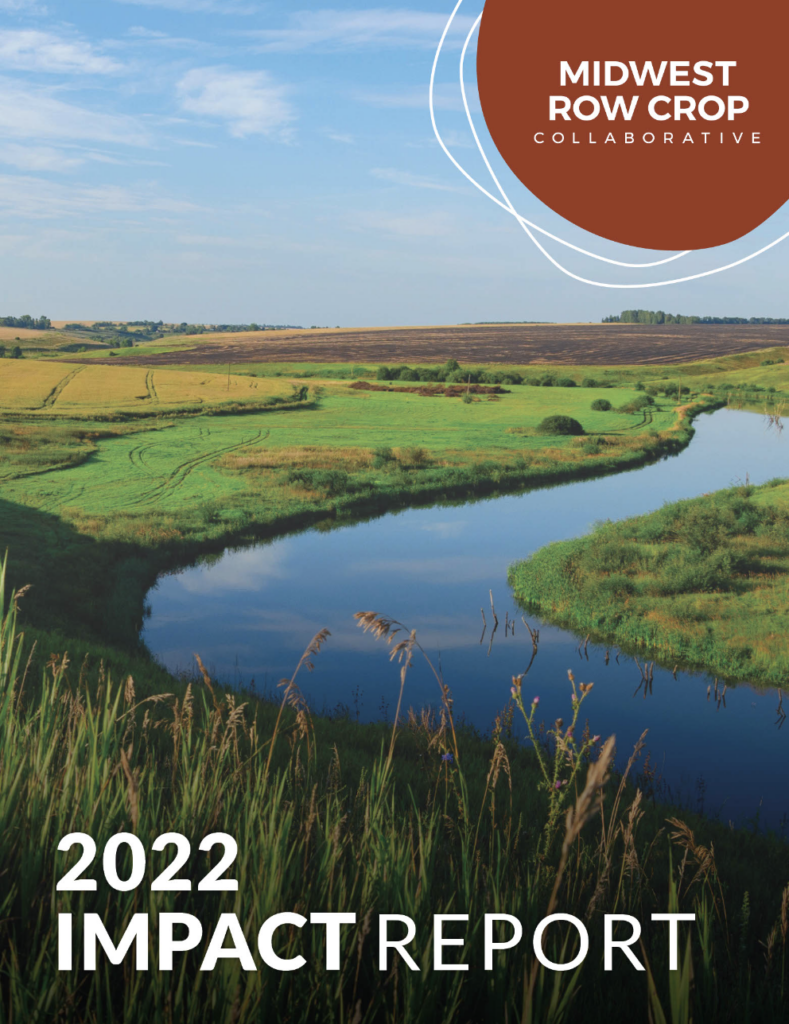 The 2022 Impact Report provides insights into on-the-ground lessons and learnings — illustrating the value of the collaborative's approach, as well as challenges moving forward.
Midwest Row Crop Collaborative members develop and test innovative solutions to improve soil health and climate resiliency while supporting farmers and reducing the environmental impacts of row crop production. From 2020 through 2022, members collaboratively engaged 2,650 farmers, resulting in the adoption of regenerative practices on more than 723,356 acres across its portfolio of projects.
Read more about the progress made possible by our members' collaboration in our 2022 Impact Report and project highlights below.
Project previews: view the full version in our report
Overview
PepsiCo, Unilever, and Cargill partner with Practical Farmers of Iowa (PFI) to provide financial and technical support to farmers and promote shared learning to remove barriers to the adoption of regenerative practices. The companies built a cost share program to help farmers add cover crops, reduced tillage, diverse crop rotation, and advanced nutrient management to their operations. Farmers in Iowa and Eastern Nebraska growing corn and soybeans for PepsiCo, Unilever, and Cargill's supply chains are eligible. By adding practices to more acres, MRCC members and PFI aim to improve soil health and water quality, sequester carbon, reduce greenhouse gas emissions, improve climate resilience, and strengthen farm economics.
Goals
There are numerous on-farm benefits to regenerative practices, but barriers limit widespread implementation. This program aims to increase conservation practice adoption within MRCC member's supply chains by providing farmers with cost share, economic analyses, and shared learning as incentives for their initial use of cover crops, reduced tillage, and nutrient management.
Approach
The program provides financial incentives for farmers to add cover crops into their rotations, thereby reducing a large barrier to adoption. For implementing fall cover crops in 2022, the program provided a cost share of $10 per acre on 200 acres (or 10% of farmed acres, whichever was larger) and $5 per acre for any acres over the first 200. PFI agronomists connect farmers to the program and develop a farming plan tailored to their operations. 
In addition to cover crops, farmers can also receive incentives for implementing other practices that build soil health. A cost share of $20 per acre on up to 200 acres is available for farmers adding small grains plus legume cover crops into their corn and soybean rotations. In future iterations of the program, there will be opportunities for farmers to receive additional funding per acre for cutting fertilizer in their corn rotation following a small grain crop. Using their decades-long experience supporting farmers in the region, PFI staff can meet farmers where they are in their conservation journey and help them adopt practices that move them into the future of agriculture. PFI recruits farmers to the program and provides assistance to make the on-farm practice changes needed to reduce greenhouse gas emissions and achieve sustainable sourcing. The program is designed to ensure farmers are supported throughout the process and that data is collected to measure impact. 
Throughout the program PFI provides technical assistance, compiles data, and monitors practice adoption. Monitoring and evaluation are crucial to ensure practice adoption supports positive environmental outcomes. Data on each participating farm is entered into the Fieldprint® Calculator to capture the impact. Insights are being used to develop short-term and long-term financial cases for stakeholders in the value chain.
To help develop a peer-support network among farmers, PFI hosts at least one field day per year for farmers to share knowledge and learn from each other. These events are in addition to ad-hoc site visits and participation in other on-the-ground events.
Overview
PepsiCo partners with Precision Conservation Management (PCM), a program of the Illinois Corn Growers Association, to improve soil health in row crop production in east-central Illinois. The project helps growers reduce greenhouse gas emissions and sequester carbon on their operations through reduced tillage, reduced fertilizer inputs, and the implementation of cover crops. To promote these soil health interventions, enrolled farmers are provided with technical support, peer-to-peer networks, and access to cost share for new acres. 
Goals
PepsiCo is working to make the business case for regenerative agriculture by developing and implementing targeted cost share programs for farmers and acres in its supply chain. The PepsiCo and PCM program offers producers financial and technical resources to engage with in-field practices such as nutrient management, reduced tillage, cover crops, and diverse crop rotations. PCM also provides expert economic analysis for farmers to help them understand the financial impact of practices they can choose to implement and how those have impacted their neighbors who have tried them. 
These practices have demonstrated benefits to soil health and water quality. Program goals include reduced greenhouse gas emissions, improved soil carbon, increased biodiversity, and decreased water and nutrient runoff on participating acres while strengthening farm profitability in PepsiCo's corn and vegetable oil supply chains. 
Approach
PepsiCo partners with its regional suppliers to recruit farmers into the program. Illinois Corn Growers Association's PCM program specialists work with PepsiCo originators or suppliers in different geographies to engage farmers. 
Interested farmers speak with PCM program specialists enroll farmers in the program and analyze the economics of a range of potential regenerative agricultural practices, such as reduced tillage, nutrient management, and cover crops. PCM program specialists then produce a report on field-by-field performance with environmental metrics and provide cover crop and cost share advice and analysis. In addition to advisory support, Illinois Corn Growers Association administers the cost share program and provides overall tracking and greenhouse gas emissions reporting.
Foundation for Food and Agriculture research co-funds a portion of the work focused on water and carbon innovation in Nebraska. Cargill and Bunge both participate on different geographically based portions of the work in Illinois.
Overview
MRCC members Nutrien and PepsiCo collaborate with Ingredion and the Soil and Water Outcomes Fund to provide financial incentives and agronomic advisory to build on-farm conservation for producers growing corn. The program has been underway since 2020 and helps producers add cover crops, no-till, and nutrient management into their operations.
Goals
The goal of this project is to catalyze farmer adoption of practices that generate measurable carbon reductions. Reduction targets were set for the program relative to the entire joint sourcing footprint of Ingredion and PepsiCo and the GHG opportunity. 
The established reduction targets are: 
0.5 – 0.9 metric tons carbon dioxide equivalent (CO2e) sequestration per acre per year.

 

15 – 18 pounds nitrogen reduction per acre per year.

 

1.1 – 1.5 pounds phosphorus reduction per acre per year.
Approach
The Soil and Water Outcomes Fund staff identifies and engages with farmers in priority locations around core regenerative agriculture practices. Once recruited and enrolled into the program, farmers are paid to incorporate tactics that improve water quality and sequester carbon in the soil. Payment to the farmer is tied to the volume of outcomes produced. The environmental outcomes on each acre are independently quantified, monitored, and verified. Environmental attributes are marketed and sold to customers after they have been produced.
Overview
The Midwest Row Crop Collaborative identified agricultural retailers as a crucial player in the efforts to scale adoption of regenerative practices. Agricultural retailers represent a key stakeholder in the food and agriculture supply chain, both in the inputs and services they provide to farmers, as well as in their larger role as trusted advisors to their farmer customers.
About half of MRCC members engage with the agriculture retail sector on conservation and regenerative agriculture projects to drive farmer enrollment in member-led programs and provide training on the benefits of regenerative practices. 
To inform MRCC's efforts in the ag retailer sector, MRCC partnered with Trust In Food, with funding from the Sustainable Food Lab, to research efforts to promote and normalize regenerative agriculture practice adoption through ag retailers. This effort involved analyzing current company and NGO-led projects and academic studies along interviewing ag retailers. Interviews were conducted with 12 staff from 11 agricultural retailers and co-ops, ranging from small regional co-ops to large international private retailers. Several key themes and potential actions were identified that can guide MRCC's work to reduce barriers to practice adoption and to build a supportive peer network for farmers in this transition. 
Overview
The Midwest Row Crop Collaborative launched a partnership with Trust In Food™, a Farm Journal initiative, to design and deploy a research-based communications campaign focused on listening to the wants, needs, and goals of "priority producers" in Iowa, Illinois, and Nebraska. At the outset of the project, producers in the region were asked to share who they are and how they see themselves. We learned that priority producers self-report that they include regenerative practices on their farms or are interested in learning about available opportunities, and they will move forward with change when they perceive it to be a proven path. Developing and testing solutions for removing barriers for producers is a critical step in developing a supportive network for the uptake of regenerative farming. Priority producers are themselves community leaders and uniquely positioned to lead by example when armed with information and proven experience.
Goals
Build producer awareness of the benefits of regenerative agriculture.
Expand its cultural acceptance in farming communities.
Encourage participation in regenerative agriculture programs.

 
Approach
MRCC developed a project scope with Trust In Food to identify key value propositions to convey in messaging and to track and test with row crop producers in selected geographies. The intent was to strike a balance between messaging that is not too broad it reduces effectiveness and that messaging is applicable to diverse audiences.
The first step was gathering data from more than 80,000 producers in the test geographies. Producers opted to participate in a pre-campaign survey and provided psychographic insights that were used to build and test advertising campaigns.
Three distinct campaign visual sets were built — classic, relaxed, and progressive. The classic look is a nod toward the traditional imagery farmers experience in classic agricultural content, such as machinery, crops, and producers at work. The relaxed look incorporates imagery not tied specifically to agriculture — children playing and intergenerational relationships. Progressive imagery veered away from traditional colors of agriculture campaigns and the call to action was shaped as a promise. Listening to what farmers told us, we focused messaging on leaving a legacy for the next generation, demonstrating community leadership, and managing risk and protecting assets. Each campaign includes several versions of messaging creative with supporting blog posts, podcasts, text messages, postcards, and other collateral to encourage farmers to sign up for conservation agriculture programming.
While leads into on-the-ground programs are not the primary measure of campaign success, we were able to partner with Practical Farmers of Iowa (Iowa and Nebraska) and Precision Conservation Management (Illinois). Each organization accepted leads and provided follow-up communication to producers who expressed interest in learning more about regenerative practices. 
The campaigns were designed to measure:
How each campaign performed compared to the others.
Optimal combination of content.
Effective delivery tactics.
Where the most engagement occurred.

 
These answers lead to the ultimate question of what insights can be applied to future campaigns to activate and engage farmers in programs that support regenerative practice adoption and shift perceptions of regenerative agriculture through information and experience. 
Overview
Members of MRCC know they are in a defining moment for policy designed to invest in agriculture as a climate solution. The 2023 farm bill is a significant opportunity to encourage the U.S. Congress to invest in a resilient and climate smart agricultural system ahead of the deadline for companies to meet their 2030 science-based targets. Additionally, for companies, farmers, consumers, and communities to experience the benefits of a more resilient food and agriculture system, there is a dire need for increased focus and resources for climate and the environment beyond the conservation title alone.
Goals
Reduce economic and social risks to farmers in adopting regenerative agriculture.
Create and support networks for the adoption of regenerative agriculture.
Increase demand for and ability to source a greater diversity of sustainably produced commodities, including small grains.
Approach
MRCC's policy work group continued its momentum in 2022 by identifying avenues for greater impact through more effective leveraging of public and private resources. Paired with insights gained from operating on-the-ground supply chain projects in the Mississippi River Basin, members convened to highlight important opportunities for systems change that maintain economic and environmental viability for all in the value chain. An outcome of the process was Working Lands Lead the Way: Policy Priorities for Regenerative Agriculture, a report designed as the basis for conversations with Congressional and federal agency leaders.
Since its publication, MRCC members and administrative staff have used the policy report in meetings with federal policy makers to discuss pairing the once-in-a-generation USDA Partnerships for Climate-Smart Commodities grants and Inflation Reduction Act with landscape-level policy change through the 2023 farm bill.