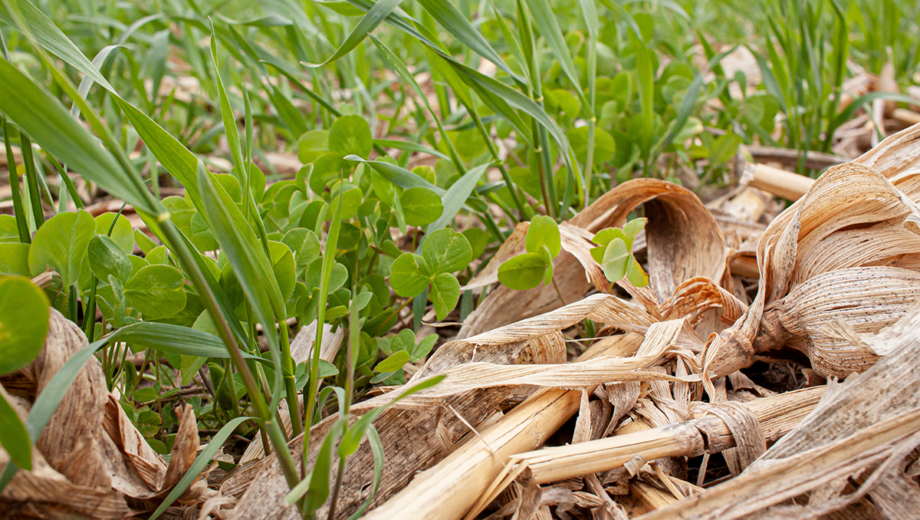 Iowa farmers improve soil quality through cover crop program led by PepsiCo and Unilever
Cover crops provide numerous on-farm benefits: reduced soil erosion and runoff, improved water infiltration and storage, and greater soil carbon sequestration, to name a few. 
The number of farmers implementing cover crops has been on the rise, with 15.4 million acres of cover crops planted in the U.S. in 2017, a 50% increase from the acreage planted in 2012, according to the U.S. Census of Agriculture. Despite the growth, this is still only about 4% of all U.S. agricultural land. Implementing cover crops can be cost prohibitive, and many farmers do not have the technical and social support for this work. 
Midwest Row Crop Collaborative (MRCC) member companies PepsiCo and Unilever wanted to help remove barriers to adoption and support shared learning about these practices among farmers. To do this, they partnered with Practical Farmers of Iowa (PFI) in 2018 to create the Iowa Regenerative Agriculture Cover Crop program, which works to increase the adoption of cover crops and other practices such as reduced tillage, diverse rotation, and advanced nutrient management among farmers within the companies' supply chains. It is offered to Iowa farmers producing soybeans for Unilever's Hellman's mayonnaise and farmers producing corn for PepsiCo. 
The two companies provide financial aid and technical support to participants and promote knowledge-sharing among farmers to help increase implementation of regenerative practices. The programs have grown significantly – 120 farmers participated in PepsiCo's program and 360 farmers participated in Unilever's program in 2020, with more than 40% of participants new to the program that year. To help engage farmers with the work, Unilever teamed up with local cooperatives and elevators that buy and merchandise soybeans.  
These efforts have successfully increased cover crop adoption in the supply chain region – about 165,000 acres of cover crops were planted in 2020 by participating farmers, and more than two-fifths of those acres were partially funded by the program's cost-sharing incentive.  
The financial incentives available to farmers include: 
$10 per acre on up to either 160 acres or 10% of the farmer's total farmland.

$40 per acre up to 40 acres for farmers planting cover crops for the first time.
The program also promotes shared learning on regenerative agriculture practices. Trusted sales agronomists and crop advisors are trained on the logistics and business of cover crops during lunchtime calls and webinars branded as "Agronomist Boot Camp." More than 700 participants attended the meetings in 2020, and nine out of 10 reported feeling more confident providing cover crop guidance afterwards. 
As companies adopt sustainability goals and look to reduce their environmental impact, PepsiCo and Unilever are developing a business case for adopting sustainable farming practices for different stakeholders in the supply chain. The training and engagement help the program address challenges to adoption beyond the up-front cost of implementing cover crops. 
So why all the effort to promote cover crop adoption? Cover crops help hold moisture in the soil, slowing soil runoff caused by rainfall and snowmelt. The runoff reduction keeps more nitrogen in the soil, reducing how much weed control is needed on fields and how much nitrates end up in water bodies. Decreased soil loss helps hold organic matter in the ground and improve soil structure, reducing greenhouse gases from farm operations. Cover crops planted by PepsiCo's program reduced GHG emissions by 38%. 
These crops can be a food source for grazing livestock and provide a habitat for wildlife, insects, and pollinators. The biodiversity score in Field to Market's Fieldprint Calculator was 16% higher for cover crop acres compared with non-cover crop acres. 
As more farmers adopt cover crops through this program, a challenge is getting them to reduce the amount of weed control implemented in the fields. Most participants maintained the number of herbicides used on cover crop acres compared with non-cover crop acres. The program is working to address the use of these inputs through education on the cost-saving and environmental benefits of reduced weed control. 
In part due to the program's success, PepsiCo and Unilever are looking to expand their efforts. The companies are collaborating with MRCC members Environmental Defense Fund (EDF) and The Nature Conservancy (TNC) on innovative financing and lender education to grow and improve the financial incentives available to farmers, further reducing barriers to cover crop adoption. 
PepsiCo and Unilever are embracing a more holistic approach to accelerating regenerative agriculture. Mechanisms like cost share can both support Iowa farmers in transitioning their growing practices and offer lessons to inform the companies' regenerative agriculture programs globally. 
Back to News & Press