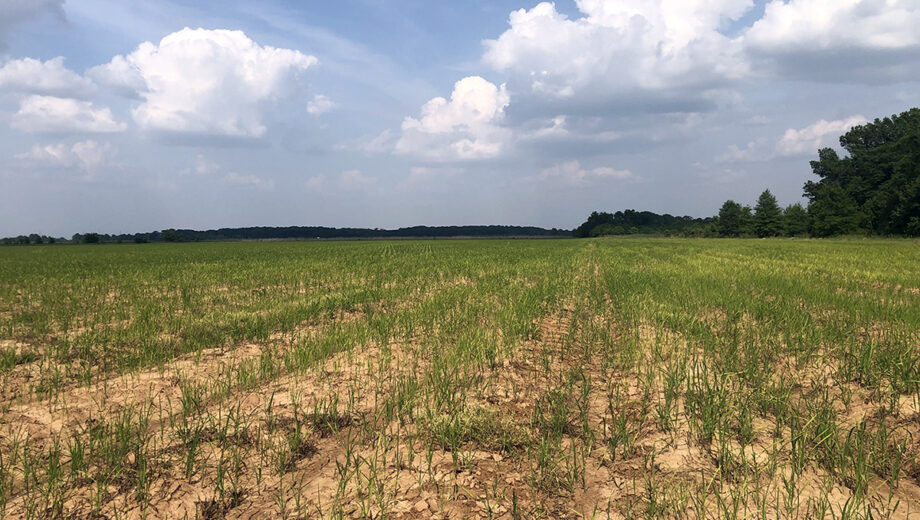 Rice lessons learned: Meeting demand while protecting resources
Midwest Row Crop Collaborative members lean into innovation, test ideas, leverage their resources, and gather insights necessary to scale projects. Lessons learned from in-field practices and relationships with supply chain partners are shared within the membership to drive regenerative outcomes.
This in-depth exploration of opportunities, challenges, and successes in a trusted environment is prioritized because each of our members know that, despite their relative size and influence in the food and agriculture system, collaboration is essential to support the massive changes underway which will build a more resilient and sustainable system.
As our members' work has expanded across the Mississippi River basin, sharing information about a range of crops takes on value. The Midwest Row Crop Collaborative steering committee gathered in the Mississippi River Delta region of Arkansas in May to learn about rice production from on-the-ground experts. The field day, organized and led by staff from Ducks Unlimited, allowed members to experience first-hand poly pipe manufacturing, surface water retention and distribution, and in-field irrigation practices for rice. The opportunity to gather insights from people with direct experience empowers Midwest Row Crop Collaborative members to inform their work within the supply chain.
Arkansas leads the way in U.S. rice production. The Kellogg Company and Walmart suppliers grow rice there. But increased demand and a changing climate are putting pressure on the region. Groundwater reserves are being rapidly depleted due to agricultural demands; and new technologies and new ways of growing are critical for the resiliency of commodity supply, producer livelihoods, and rural communities. Innovations in irrigation practices offer the greatest opportunity to positively impact greenhouse gas emissions and protect groundwater assets in the region.
A key learning from the on-the-ground experts is that programs encouraging innovation require up-front, direct-to-farmer investment and a minimum run time of three-to-five years. Cost share during transition is essential to allow producers time to discover value beyond the initial financial investment. Further, multiple benefits realized over multiple growing seasons typically result in more sustained practice adoption. Midwest Row Crop Collaborative members provide financial support for practice adoption, and learnings from Arkansas further informs this work.
One size does not fit all when considering practice adoption. Even within one commodity, in this case – rice, differing practices may be utilized to ensure crop resiliency and protect vital resources. The pressures from agriculture and manufacturing do not allow natural recharge of the Mississippi Alluvial and Sparta aquifers in the region, making water conservation a high priority.
A precision water management tool that's widely used in the Mississippi Delta region is polyethylene pipe irrigation, which can increase irrigation precision and reduce water use. In a visit with Delta Plastics, MRCC members viewed the poly pipe manufacturing process, learned about a mobile app that helps producers maximize irrigation efficiency (Pipe Planner), and explored deployment of poly pipe on fields with varying water needs. The pipe is most effective when paired with flow meters from groundwater wells. Selecting proper pipe size and hole diameter, in addition to maintaining constant pressure, are essential for maximizing effectiveness of irrigation with the poly pipe. Adding soil moisture probes in fields has the potential to eliminate an irrigation event by providing real-time information about soil moisture needs for row crops, saving vital natural and financial resources.
The uptake of digital tools, like the Pipe Planner app, has helped reduce water use and improved efficiency in rice production. It also helps track wear over time to prevent damage and ruptures. Delta Plastics offers in-field used pipe collection at the end of each growing season. The farmer is paid 50% of the per-roll purchase price and the material is recycled into new products.
On-farm surface water retention is another tool used in the region for rice irrigation. A new water management district — the Bayou Meto Water Management District — is a large-scale, multi-year project being constructed provide surface water drawn from the Arkansas River through a distribution system of pipes and canals to neighboring farms. Flooding for winter duck habitat will offer another regional benefit of this system.
Producers without on-farm water retention facilities will retire marginal land to create on-site storage for water pulled from the canals. Farms with existing retention infrastructure will connect directly to the distribution system. There is a large holding pond on Brantley Farming Co., and the family deploys miles of poly pipe for irrigation.
Dow Brantley and his family know first-hand that irrigation is a labor-intensive process. To conserve water, they have been growing rice in different ways for more than five years. New programs and partnerships allow them to test ideas and practices to refine how they farm. The operation relies on daily on-farm data entry which allows rapid adjustments in a wide range of systems.
The family uses "alternate wetting and drying" of rice. In this practice, fields are flooded and allowed to drain until the water level is below the soil. The wetting and drying is monitored based on rice growth cycle and weed and grass intrusion, saving significant time because it does not require constant monitoring. The labor, water, and electrical cost savings are notable compared to traditional rice production methods. The practice has been successful on many farms beyond the Brantley's and is growing in popularity.
The importance of place-based solutions is significant in the food and agriculture industry. Even within counties, producers have different needs based on countless variables. For the Midwest Row Crop Collaborative to reach its goal of ensuring 30 million acres in the Midwest employ practices that support improved outcomes such as water quality and use, it is valuable to explore and share innovative and effective learnings.
Back to News & Press