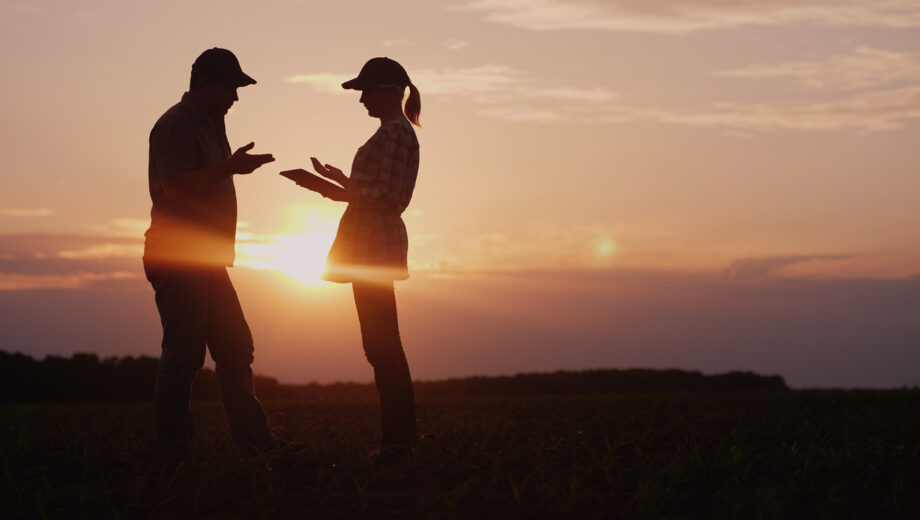 Driving transformation: Bayer's collaborative efforts to build agricultural resilience
Midwest Row Crop Collaborative member Bayer is committed to driving regenerative practice adoption to build a healthier and more resilient agricultural system. The company has an ambitious goal of by 2030 helping farm customers reduce their in-field greenhouse gas footprint by 30%.
Staff participate in Midwest Row Crop Collaborative (MRCC) to share learnings, pursue collective initiatives and resources, and positively transform the agricultural landscape beyond what Bayer can achieve alone. Monica McBride, Director, Global Partnerships—Environment and Landscapes, and Josh VanDeWalle, North America Lead of Global Food Chain Partnerships, spoke with MRCC to discuss the importance of working together to support farmers, build soil health and biodiversity, and reduce emissions in agriculture.
Talk about the value of collaborating with other companies and organizations through MRCC and how it helps advance your organization's goals.
Monica: MRCC unlocks opportunities for collaboration with food and agriculture companies in a pre-competitive environment. Together, members can pool resources, expertise, and ideas to develop and test solutions that remove barriers to regenerative practice adoption and support systems change. MRCC members sit in different spaces in the value chain, and MRCC is a space where we can work towards the same goals. Additionally, this platform provides an important forum for companies to collaborate with civil society through the NGO participation to get a better understanding of how we can jointly support all our collective goals.
Josh: Being an MRCC member allows Bayer to gain a larger, more nuanced perspective about the changing agriculture landscape. There's been a recent paradigm shift as regenerative agriculture becomes a bigger priority for companies. These companies often co-exist in a competitive landscape, and in MRCC we can move beyond differences and collaborate on effective projects to support farmers and advance towards shared goals of expanding regenerative practice adoption.
Through shared projects, we can expedite technologies and strategies that promote agriculture resiliency, reduce greenhouse gas emissions, and support farmer livelihoods. The projects advance solutions to create landscape level change and demonstrate the commitment of the members towards a more sustainable future.
Bayer has been a leader in regenerative agriculture, with multiple incentive programs underway through MRCC for farmers to improve their soil health. What advice do you have for other companies and organizations seeking to drive regenerative practice adoption and improve environmental outcomes in their supply chain?
Monica: You can't do this work alone. Collaboration across sectors is needed to accomplish companies' ambitious goals and reduce greenhouse gas emissions. Companies need to test and learn together what works with and for farmers when it comes to asking them to implement practices designed to decrease carbon emissions and build resiliency in the agriculture system. The relationships we've formed through the collaborative have been valuable as Bayer works to incentivize farmers to implement climate-smart practices that can reduce emissions from agriculture and sequester carbon in the soil as part of the Bayer Carbon Program.
What work through Bayer and MRCC are you most excited about this year?
Monica: I am excited for the findings of MRCC's regenerative agriculture media campaign to be published into a playbook this fall. The campaign was designed to pique the interest of the next wave of farmers to explore new opportunities within a regenerative agriculture framework. The campaign developed materials that were tested though an outreach and engagement campaign targeted at producers and exceeded engagement expectations. Bayer is excited to build from these learnings to continue to engage farmers in our ForGround platform.
Josh: This year Bayer launched PRECEON, our smart corn system, which introduces a new system that produces shorter corn hybrids to reduce growing risks such as yield losses due to high winds, allows for more access through timely, precise crop protection and other inputs, and enables more yield production on each acre. It's an exciting time as we find innovative ways to adapt row crop production to increase yields while reducing inputs and crop loss.
Learn more about Bayer's sustainability and regenerative agriculture initiatives.
This highlight series showcases Midwest Row Crop Collaborative members and their work to promote the widespread adoption of regenerative, science-based approaches that benefit the environment and support scaled adoption across the supply chain. 
Back to News & Press