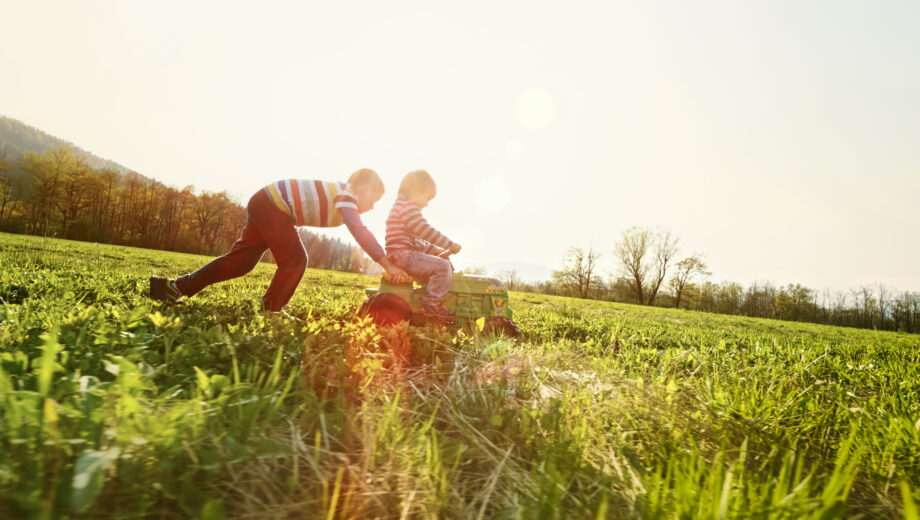 Farmers first: Designing producer-centered engagement
Midwest Row Crop Collaborative members and partners develop and offer high-quality programs designed to improve environmental outcomes in agriculture. At the center of that work is supporting farmers in making on-the-ground changes aligned with regenerative agriculture principles.
Today, U.S. agricultural producers are inundated with a flood of program invitations resulting from the once-in-a-generation federal investments focused on producing commodities with climate-smart practices. Creating the landscape-level shifts needed to build a resilient agriculture system and to reach MRCC's ambitious goals requires successfully engaging farmers and ensuring that MRCC's innovative programs are not lost in the firehose of opportunity.
This current explosion of opportunities runs the risk of compounding a set of long-existing challenges. At its core, change is difficult, and shifting operational practices requires significant time, energy, know-how, human and financial resources, and introduces uncertainty and risk into farm businesses and farmer livelihoods. It also requires a departure from the way that previous generations, and current neighbors, do things. We know that despite numerous studies highlighting the economic and environmental benefits of practices including cover crops, nutrient management, and low- or no-till, adoption of regenerative agriculture has been hampered by its limited acceptance among row crop producers. In 2022, the Walmart Foundation funded Environmental Initiative's work with Midwest Row Crop Collaborative members to explore new ways of promoting acceptance of regenerative agriculture in Midwest farming communities. Environmental Initiative and MRCC members teamed up with Trust In Food™, the climate-smart agriculture division of Farm Journal, to explore how farmers understand, see value in, and experience barriers to regenerative agriculture practices, and then test the impact of those learnings through an outreach and engagement effort.
The program centers farmers' perspective and needs and adapts messaging and insights to reflect how farmers express their values and priorities related to their farming practices, which the team calls the "Human Dimensions of Change." Insights and examples from this project about how to listen to and respond to farmer priorities are being distilled into a web-based playbook for sharing with the sustainable agricultural community. As MRCC members and Trust In Food analyze and evaluate program data, we are identifying strategies to engage farmers in regenerative practices and improve the value proposition of regenerative agriculture for future outreach work.
Listening to farmers
The project focused on producers in select counties throughout Illinois, Iowa, and Nebraska. The region was chosen because of MRCC's significant presence there and the potential to gather insights from the 80,000 producers in the region who regularly engage with Farm Journal.
One key to scaling systems change in agriculture is to deeply understand producers' wants, needs, and goals. At the outset of the project, producers in the region were asked to share who they are and how they see themselves. Through Trust In Food's "Human Dimensions of Change," we learned about the producer's perception of regenerative agriculture and the barriers to change, and we used the findings to build outreach programming.
Trust in Food evaluated the attitudes, interests, and identity of more than 55,000 farmers in the region and compiled into a persona that we used to guide the next stages of our work. We learned producers identified manage risk actively and will move forward with change when they perceive it to be a proven path. These producers are community leaders and uniquely positioned to lead by example when armed with information and proven experience.
Talking to farmers on their terms
MRCC developed an outreach and engagement information campaign using our deeply informed understanding of these producers' wants, needs, and barriers. The information campaign included several different value propositions gleaned from our previous research and data, with supporting blog posts, podcasts, text messages, and direct mail designed to build understanding, demonstrate alignment with stated goals and needs, and encourage farmer participation in conservation agriculture projects.   
In the outreach, we explored themes that built upon the producer characteristics identified through the earlier research and data work conducted by Trust In Food. We chose three themes that rose to the top: leaving a legacy for the next generation, demonstrating community leadership, and managing risk and protecting assets. 
These themes were integrated into three distinct campaign visual approaches that were designed and presented to producers in the targeted region on social media and news, market, and weather websites. A classic look served as a nod toward the traditional imagery farmers experience in their daily lives — machinery, crops, and farmers in fields. The relaxed look incorporated imagery related to leaving a legacy and being part of a community — children, play, and intergenerational families. In both the classic and relaxed campaigns, the call to action was a classic click to "learn more." Progressive campaign imagery included younger farmers in a classic setting with bold text and colors paired with a call to action tied to personal commitment and promise. The test campaigns visuals and written content intentionally do not include references to "regenerative" because the pre-campaign research revealed a strong negative connotation with the term. However, the campaign maintained its commitment to supporting regenerative agriculture adoption through robust content and case studies about regenerative agriculture practices, references to sustainability, and the broad theme of conservation agriculture.    
Early insights
Through a robust data analysis process, we are learning:  
What value propositions motivate.   

 

Which channels for message delivery are effective.   

How different farmers react to different engagement opportunities.
We used behavioral science research on how people process information and make decisions to inform our efforts, deploying content in ways that were designed to capture the attention of the person who is skimming words and pictures around the perimeter of a webpage. The resulting highly visual "Can we even get you interested?" content performed two times better than the agriculture industry's average.
After we captured a farmer's attention, we served them with informational content designed to answer their questions and provide inspiration and validation from other farmers in the region. These placements look like information, are identified as paid content, and are very popular on Farm Journal media platforms. The strategically placed content resulted in three times more producers "raising their hand" by clicking the "learn more" call-to-action button compared to the agriculture-industry's average. The highest performing informational content included farmer-centered stories on economics and legacy. While hand-raising is not the principal barometer of the project's success at this point, interested producers were connected to Practical Farmers of Iowa and Precision Conservation Management—a program of the Illinois Corn Growers Association so they could engage with advisors and learn about programs offering technical and financial support for regenerative agriculture practices.
Who raised their hand?
Our efforts captured interest because we listened and responded to what farmers told us mattered to them. We have more to learn from the 60,000 producers reached and 10,000 producers engaged in the campaign, including more about the producers who took the next step to learn more. Data analysis will continue through the summer as case studies, interactive elements, and data insights are prepared for an online playbook. The playbook built from campaign findings will be available in early winter and is designed for the vast network of organizations, including MRCC members, implementing partners, and beyond, who are working to support farmers in adopting regenerative practices and scaling on-farm conservation efforts.   
The systems change we need across the landscape will only be achieved when farmers understand, see value in, and feel equipped to make that change, and the Midwest Row Crop Collaborative is excited to share what we are learning.   
Be one of the first to receive the playbook: Follow the Midwest Row Crop Collaborative on LinkedIn or sign up for our newsletter through the link below.  
This blog was developed in collaboration with Environmental Initiative and Trust In Food.
Back to News & Press