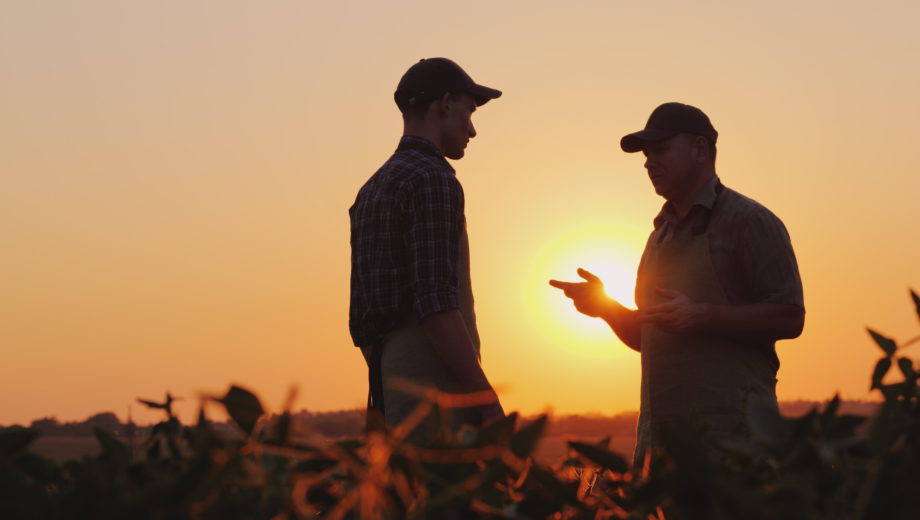 Establishing a foundation for increased adoption of regenerative agriculture through engagement
Regenerative agriculture is gaining momentum as row crop producers express increasing interest in the benefits of more resilient farming systems and more companies invest in strategies to meet environmental goals and support robust agricultural systems.
However, despite numerous studies highlighting the economic and environmental benefits of regenerative agriculture and the implementation of practices like cover crops, nutrient management, and low- or no-till, adoption of regenerative agriculture has been hampered by its limited cultural acceptance among row crop producers. To accelerate the adoption of regenerative farming systems at the scale and speed needed, farmers and the broader public need a deeper understanding of its benefits and the value it offers to farms, communities, and food and agricultural systems.  
Responding to this need, and with funding from the Walmart Foundation, Midwest Row Crop Collaborative (MRCC) members are embarking on a targeted media campaign to help increase acceptance of regenerative agriculture within farming communities. 
In the past, media campaigns designed to educate or persuade producers have struggled to gain wide exposure and build significant traction due to their limited resources and a lack of ways to test the effectiveness of these efforts. This project will produce credible insights for those designing and implementing campaigns in food and agricultural systems on ways to positively engage farmers of varying row crop types and adoption readiness levels, offering benefits that extend beyond MRCC.  
 "This campaign will engage more farmers in the conversation around the benefits of regenerative farming," said VP and COO of the Walmart Foundation, Julie Gehrki. "The project will also provide companies, non-profits, universities, government, and others with effective engagement strategies to support farmers transitioning to more regenerative farming systems – accelerating our goal of scaling these systems across the U.S. Midwest."  
MRCC members are committed to facilitating widespread adoption of regenerative farming by helping engage farmers and reduce misconceptions around the costs and benefits of the practices. Understanding the best ways to reach middle and late adopters and support early adopters as they continue to scale their work and lead others is key to normalizing regenerative agriculture across the landscape and meeting the ambitious goals set by the Midwest Row Crop Collaborative. 
"For PepsiCo to best support farmers in the shift to regenerative agriculture, we need to know what makes them more open to trying a different approach and what motivates them to participate in supply chain programs like those PepsiCo offers," said Margaret Henry, PepsiCo's director of sustainable agriculture strategy.  
In partnership with Trust In Food, MRCC's outreach strategy focuses on three geographies in the Midwest which have been selected to align with member-supported programs. Trust In Food will design, implement, and analyze a survey of Midwestern producers, and the survey's findings will inform the development of a regenerative agriculture media campaign strategy targeted at row crop producers within the designated regions.  
"By gaining additional insights into the challenges and motivations of producers to adopting regenerative agriculture practices, we can work to expand resources and opportunities for increased adoption of practices. We can also better communicate about how changing the way we farm benefits farmers, communities and our global food system," said Carrie Vollmer-Sanders, director of agricultural engagement strategy for The Nature Conservancy and MRCC co-chair.
The planned campaign will be shared through multiple agriculture media channels and timed to reach as many farmers as possible. Trust In Food and MRCC members will evaluate the efficacy of the campaign to identify insights and develop tools that can be used by NGOs, supply chain companies, and conservation districts/government entities. These insights and tools will be packaged in a playbook that includes recommendations on shared language, messaging approaches, and delivery strategies. MRCC members anticipate that this campaign will result in increased levels of engagement, awareness, and acceptance of regenerative agriculture among farmers and landowners, including increased enrollment in MRCC member programs. 
Ariel Kagan, Environmental Initiative's director of agriculture strategy, says addressing the hesitancy to adopt these practices at levels of farming will help lead to greater acceptance and implementation among producers. "Our hope is that over the long term we will see a growing normalization and broader use of regenerative agriculture practices," Kagan said. "This project will help increase visibility of farmers implementing these practices and help increase the willingness of others to adopt farming methods that improve our shared environment."  
Back to News & Press