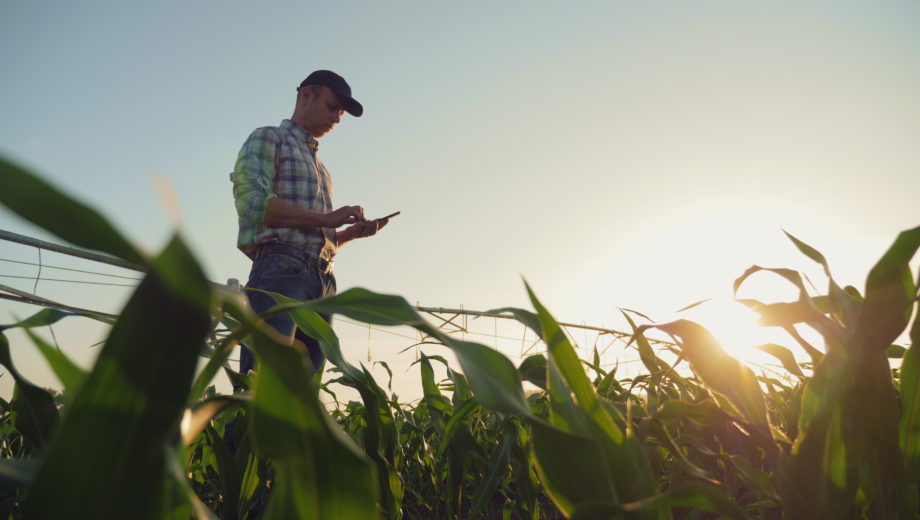 Collaborative action in the Midwest is creating a more resilient food system
The Midwest is a linchpin of the U.S. food system. As one of the most intense areas of agricultural production in the world, it represents a globally unique resource and economically vital area with more than 125 million acres of agricultural land. Three-quarters of this highly productive land is devoted to corn and soybeans, the raw material for a long list of basic foodstuffs we enjoy today.
Farming has never been easy work. My father has many stories from growing up on a farm in East-Central Illinois, where my grandfather grew corn, soybeans, wheat and oats on 500 acres, along with 40 steers and 30 hogs. Since then, farming has changed dramatically but farmers continue to face the challenge of handling weather extremes. The Midwest faces mounting environmental and economic challenges from climate change and other pressures on the landscape. Rising temperatures and wetter springs are expected to reduce corn and soybean yields in the coming decades.
The flooding in 2019 or the recent derecho and the devastation of these extreme weather events are a stark reminder of just how fragile our farming system can be. It's driven home for me, again, just how urgently we need to fix what's not working in the U.S. food and agricultural system — for the good of farmers, the food on our plates and the planet.
But a range of barriers persistently hinder development of solutions to these challenges at the pace and scale we need. I'm convinced that collaborative action is the only way to overcome the entrenched challenges confronting our agricultural system.
This is the type of action that the Midwest Row Crop Collaborative (MRCC) and other groups like Field to Market, Sustainable Food Lab and MBOLD are driving with companies, NGOs, farmers and others with a stake in our food system. These systemic problems cannot be solved by any one company or solution, in a complex and interdependent sector with millions of actors and interests pulling it one direction or another.
Over the past four years, the Midwest Row Crop Collaborative has put its partnership approach into practice by:
Facilitating the implementation of regenerative practices on over a quarter-million acres of farmland in the Midwest
Helping to reduce risks for farmers by providing data and financial incentives to support sustainable practice adoption
Providing education and increased awareness about soil health, water quality and climate mitigation among thousands of practitioners and consumers
What does collaborative action look like at the moment? Taking a systems-change perspective, the collaborative's members co-develop and implement pilot projects, spurring creativity and experimentation and sharing the risks and investment, in an effort to establish proof cases that can be scaled.
My father has been surprised to learn that some of the fundamental practices being promoted now are simply the way he farmed back in the 1940s and 50s — including cover crops and multi-crop rotation. Others, such as conservation tillage, he points to as improvements on the farming that he knew. We have an opportunity to draw on the best of farming from before with everything that we've learned since.
Based on our experiences, here are ways farmers, food companies and NGOs can collaborate for systems change:
Join forces to promote cover crop adoption – When MRCC member companies in central Iowa identified that they were sourcing different ingredients from the same geography, with the same shared challenges, they banded together to address barriers to adoption of cover crops and other complementary practices by providing financial and technical support. They also pushed for scaled adoption through learning and peer support among farmers. The project is seeing positive results in reduced GHG emissions, improved soil carbon and improved measures of biodiversity.Elsewhere, in Nebraska, supply chain companies are working together to promote adoption of cover crops and other conservation practices, including nutrient management and tillage practice changes. The project provides farmers with economic analysis, agronomic assistance and peer-to-peer support, leading to GHG reductions, water quality improvements and improvements in farm economics.
Team up regionally to adopt conservation practices – MRCC members have provided farmers with funds and technical assistance across thousands of acres in Illinois, Michigan, Nebraska and Arkansas. This assistance created opportunities to support conservation practices such as cover cropping, conversation tillage, nutrient management, vegetative buffers, irrigation efficiency and wetland restoration to demonstrate that agriculture can contribute significantly to improved environmental outcomes.In another project in water-stressed central Nebraska, sitting atop the Ogallala Aquifer, MRCC members are collaborating to promote approaches including reduced tillage, efficient irrigation, and pivot telemetry. The project is designed to demonstrate the possibility and efficacy of improving water quality and quantity, while proving the financial case that can lead to community adoption of improved practices.
Support networks for change – Culture and behavior change are powerful and necessary tools for promoting conservation practice adoption. Members are investigating the latest behavioral science research to better understand how to empower networks that can support farmers and influence practice adoption.
Engage consumers around sustainable agriculture – Building on a successful 2018 pilot, MRCC members are exploring plans to expand a shopper campaign that will leverage the connection between consumers, sustainable agriculture, and farmers to accelerate and learn from consumer demand for conservation practices in agriculture.
Test innovative financial incentives – Corporate and NGO members are partnering with a lending institution to develop a soil health lending program intended to reduce the financial barriers and risks of adopting soil health practices.
The reality is collaboration takes time and resources, and a willingness to work differently. Key to the MRCC's continuing efforts has been a small cohort of innovative companies that occupy different places in the food and agriculture value chain and that are open to learning and improving — from both successes and challenges.
By working together and leaning on the unique contributions each member of the food ecosystem can provide, we can become better equipped to reach our collective goals for soil health, water quality and a more resilient food and agricultural system. MRCC is always open to developing new projects and partnerships that help to advance these goals, and we'd like to hear from you with your ideas for how we can collaborate.
Back to News & Press