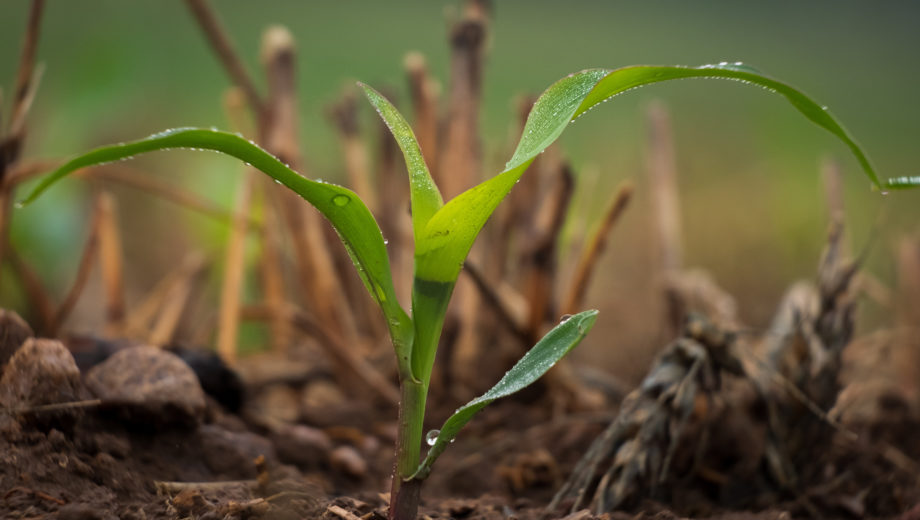 Growing momentum at pivotal point for agriculture
If 2020 was marked by its disruption for the food and agricultural system and our wider society, how might we characterize this past year?
Given a little distance from 2021 and—with the help of a review of Midwest Row Crop Collaborative's accomplishments—I remain struck by the momentum MRCC has built with the leadership of its members and support of its partners. Despite the continued presence of supply chain challenges, members have deepened their participation in the Midwest Row Crop Collaborative, exploring new opportunities for joint work, experimenting with promising solutions, and elevating strategies with demonstrated success.
Impact
This growing momentum, felt within MRCC and across the sector as regenerative agriculture's visibility rises, was reflected both in MRCC's portfolio of project work and its emphasis on impact within the MRCC structure.
MRCC released its 2020 Impact Report which highlighted collaborative member work with more than 900 farmers, touching over 300,000 acres across the region occurring over the prior year. In addition to the registered, on-the-ground projects members operated, the report shared a look at several strategies in development associated with MRCC's theory of change.
Members made their commitment clear with the announcement of MRCC's new and ambitious 2030 goals, guided by a shared desire to expand regenerative agriculture with farmers across the Midwest. First announced at Walmart's first Row Crop Summit, where MRCC's work was also featured, members also agreed to a set of key performance indicators by which they'll measure progress.
Membership in MRCC grew in 2021, with two new companies joining its ranks: Nutrien Ag Solutions and Oatly. Both companies are situated in unique parts of the value chain, bringing valuable new perspective and experience to the group.
Partnership
Critical to this growing momentum has been the identification of key partners: those with similar visions for what the Midwest's row crop agricultural system could be and where there are the greatest opportunities for change, those that share the recognition that the way it operates now is not just untenable but increasingly risky, and those that feel a sense of urgency about how quickly these shifts must occur. Some examples of these partnerships on display include:
HSBC committed $1.6M to MRCC projects over the course of four years beginning in 2021, with the projects funded expected to impact over 150,000 acres. This support is part of HSBC's global program, Climate Solutions Partnership, which invests in the removal of barriers and development of incentives for nature-based solutions, energy transition, and business innovation. For more on their approach to nature-based solutions and regenerative agriculture, check out HSBC's Climate Week event, "Financing Nature: Unlocking Solutions for Regenerative Agriculture," which highlights member PepsiCo's sustainable agriculture work and their engagement in MRCC.
MRCC participated in partner Field to Market's Innovative Finance Workgroup which was formed to evaluate financial tools and mechanisms for supply chain use to accelerate sustainability at the farm level. More about collaboration between MRCC and Field to Market can be found in a recent joint blog post with a public report soon to follow.
Sustainable Food Lab and MRCC continued to work together, co-convening a professional action cohort called Scale Lab, partially comprised of MRCC members. Scale Lab is designed to support its participants as they refine their own methods of communication about what regenerative agriculture is and why it is important to food businesses, learn how to increase the attractiveness to farmers of investing in transition, and develop and use tools and steps for effective supply chain projects. A playbook, intended for industry-wide use, is expected soon.
Shared learning
An essential element of MRCC's value can be found in its approach to shared learning and—while much of that can be found within the smaller settings of work groups and regular learning calls—this year the group aimed to communicate some of that learning more publicly.
MRCC tracked and broadly shared lessons and opportunities to accelerate the scaling of regenerative agriculture in the Midwest's row crop system. The result of this work was the group's first-ever insights report, From the Inside Out, which explores four key themes related to sustainable agriculture programs: partners and relationships, farmer engagement, metrics and reporting, and internal capacity-building.
With leadership from member Environmental Defense Fund (EDF), members gathered with topic experts to explore opportunities to scale data gathering to meet the need for regionally-specific financial information on conservation practices, as well as discuss the benefits anticipated with its effective use.
Members EDF and The Nature Conservancy authored Banking on Soil Health: Farmer Interest in Transition Loan Products, a report developed with partner BeckAg and with contributions from Practical Farmers of Iowa and MRCC. The report, based on activities advanced within MRCC's Conservation Finance & Incentives work group, documents farmer reactions to a model soil health transition loan product and demonstrates a clear path for lenders to support a more productive, profitable and resilient agricultural system.
In 2022, we expect an expansion and deepening of activity across the Midwestern landscape. MRCC members are highly activated to test new approaches, learn from their successes and failures, and openly report what they learn in the process. Their collaborative approach to partnership—among members and with others who share their goals—gives the group the ability to build on its strengths and fill in its gaps, and will certainly play an essential role as MRCC members match their ambition with action in the year to come. If you are interested in seeing where those opportunities might lie, we'd like to hear from you.
Back to News & Press